Ya'Ya (Charles) Heit
A pair of commissioned art pieces by celebrated Gitxsan First Nations artist and master carver Ya'Ya (Charles) Heit was unveiled as part of Osgoode's 125th anniversary celebration on October 7, 2014. The works, named The Black Hawk  (left) and The Red Eagle, tower above Gowlings Hall. The enormous cedar wood carvings represent the connection between Osgoode, its physical location on First Nations land and the power of reconciliation and healing. The unveiling included a video greeting from Heit.
Faceless Dolls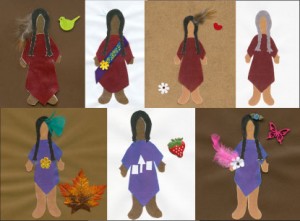 In 2013, as part of a nation-wide Native Women's Association of Canada (NWAC) initiative to raise the profile of missing and murdered indigenous women across Canada, students from Osgoode's Aboriginal Lands, Resources and Governance Intensive Program created "Faceless Dolls" to show solidarity and support for NWAC's research and bring awareness to the issue.
Each doll is meant to represent a strong, beautiful woman who has become the faceless victim of crime.
These framed dolls are currently exhibited on the second floor of the Law School.