Library Access
The Osgoode Hall Law School Library is also the law library of York University. The library is open to all students, faculty and other members of the York University community. The library is also open to members of the legal profession and the local community. All are welcome to use the library's collections and services, though access to licensed online resources is necessarily restricted to the York community.
All study spaces in the Harris-Taylor Family Reading Room in the Upper Library are reserved for the exclusive use of Osgoode Law students, as are all group study rooms.
All other patrons are asked to use the study spaces in the Lower Library's McMillan LLP Reading Room.
Please note that, during Osgoode examination periods in the fall and winter semesters and the two weeks immediately prior to the first day of exams, use of the library's study spaces is restricted to Osgoode Law students only. Members of the York University community wishing to access Osgoode Library resources or services for research will continue to be welcome in the Library, but use of the library for study only will be restricted.
We ask all patrons to co-operate with Library staff and to be prepared to show your ID at the door.
Fines
Fines will be charged on all overdue books according to the following schedule:
| | |
| --- | --- |
| General Collection (2-week loan) | 50 cents per day per item to a maximum of $25.00 per item |
| Core Collection (24-hour loan) | $15.00 per day to a maximum of $100.00 per item |
| Recalled items | $1.00 per day per item to a maximum of $25.00 per item |
| Accessories (laptops, headphones, study room keys, etc.) | $3.00 per hour to a maximum of $100.00 per item |
Fines are calculated as items become overdue and accrue daily until returned. Payments may be made by debit, Visa, and Mastercard. The library does not accept cash.
The circulation system automatically generates a BLOCK on a patron's record for University borrowers owing $25.00 or more in fines and/or accumulating charges on outstanding overdue items and for External borrowers owing $5.00 or more in fines and/or accumulating charges on outstanding overdue items. No material can be borrowed when there is a BLOCK on a borrower's record. In cases of accumulating charges, items must be renewed and/or returned and related fines paid before the BLOCK is removed.
Replacement Costs
A replacement charge of $60.00 plus a $15.00 processing fee will be levied in the following cases, in addition to any fines incurred and due.
Item reported lost or returned in unusable condition
Reserve materials not returned within 15 days following the due date
Stack materials not returned within 50 days following the due date
Recalled materials not returned 25 days following the due date
Item returned in a damaged condition
In lieu of the $60.00 replacement charge and after consultation with the library staff it may be possible for the borrower to purchase an acceptable replacement copy. Items returned after the patron has been billed for the replacement are subject to the applicable fine plus the processing charge.
Eating and Drinking
The Library's intent is to provide a clean environment for users and to also preserve the collections of teaching and research materials. Spillage of food or drink can cause irreparable damage to library materials, and food crumbs can encourage harmful insects and rodents. Food smells can disturb other library patrons. Damaged library materials cannot always be replaced because they are either too costly or in some cases they are no longer available. Consequently, the following rule has been adopted and will be enforced:
Food, with the exception of chewing gum or candies, is not allowed in the Library.
Beverages are allowed only if in a spill-proof container.
Please be considerate of others and dispose of all waste in the containers provided.
Smoking
Smoking and vaping are STRICTLY PROHIBITED in all parts of the Library and the School.
Noise
Osgoode Hall Law School Library study areas are zoned based on expected levels of interaction to maintain an environment conducive to intensive study and research and ensure users are aware of their conduct while visiting. Please note that the upper level silent study area (also known as the Harris-Taylor Family Reading Room) is for Osgoode students only.
When arriving, please take note of the zones available: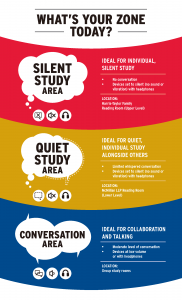 Visitors may identify the zone they are occupying by observing one of the following:
Cell Phones
In the interest of other users we ask that the ringers on cell phones be set at the minimum level or on vibrate when you are in the Library, and that you move from quiet study areas or, ideally, leave the Library to make or complete your calls.
Exit Gates
Users activating the alarm at the Exit Gate are required to return to the Circulation Desk so that their bags and books, etc. can be inspected by Library staff.
Recommendations for Purchase
If you learn of or need to consult any book, regardless of whether a new or older title, that is not owned by the Osgoode Library or York University Libraries and you believe it would be appropriate for our collection, please do not hesitate to submit a request for its purchase. If you specify that you need the book quickly for essential research, we can put a rush on the order and make sure you are notified when it is received.