Makelé Saïdi '15 – Launching an International Career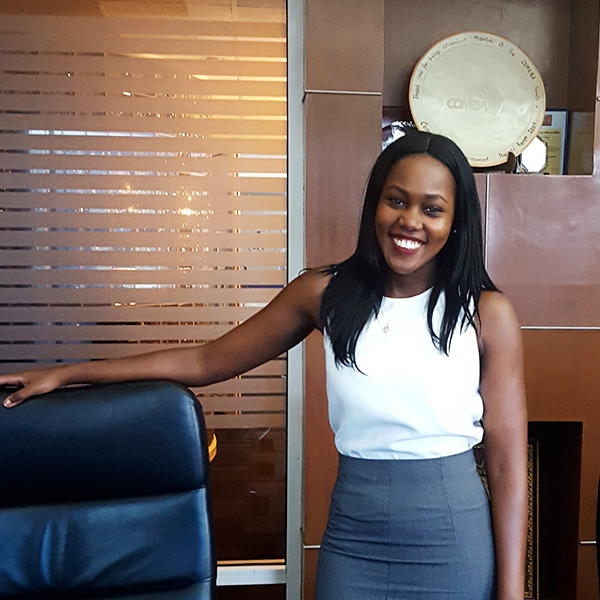 I have often been asked what it takes to launch an international career – and my answer is always simple: be brave, get involved, and use your education as a springboard.
Prior to coming to Osgoode, I worked with the Rwanda Mission to the United Nations in New York City, the World Trade Organization in Geneva, and the African Development Bank in Tunis. Engaging with these organizations solidified my determination to work in international development. I believed that obtaining a Juris Doctor from a school as highly regarded as Osgoode would give me a distinctive edge in a competitive field –  and sure enough, it did.
International organizations look for ambitious, cross-cultured individuals and Osgoode offers you the chance to expose and challenge yourself from the minute you walk in.  I got involved with the student-run International Legal Partnership, creating fellowships for Osgoode students at the Ministry of Justice in Rwanda as Junior Project Director. Wanting a firm understanding of global trends impacting development, I also worked for Cynthia Williams, a Business Law professor at Osgoode, researching illicit financial flows and cross-border fraud. In my final year, I studied abroad at the National University of Singapore, expanding my understanding of business and its impact on development by studying Chinese Business Law, International Economic Law, and Oil and Gas Law.
Such experiences are there for your taking at Osgoode, and being brave means not always following the traditional path. Being an Osgoode graduate makes you an attractive candidate for competitive initiatives such as the Young Lawyers International Program (YLIP) funded by Global Affairs Canada. YLIP offers the opportunity for invaluable practical experience abroad – and rather than article in Toronto like everyone I knew, I furthered my ambitions in international law by working at the International Commission of Jurists in Nairobi, Kenya. Currently working at a multilateral organization, I know every decision I made in the past has led me to where I am today.
I know I made the right choice in choosing Osgoode, not just for the home it became, but for the doors it opened.