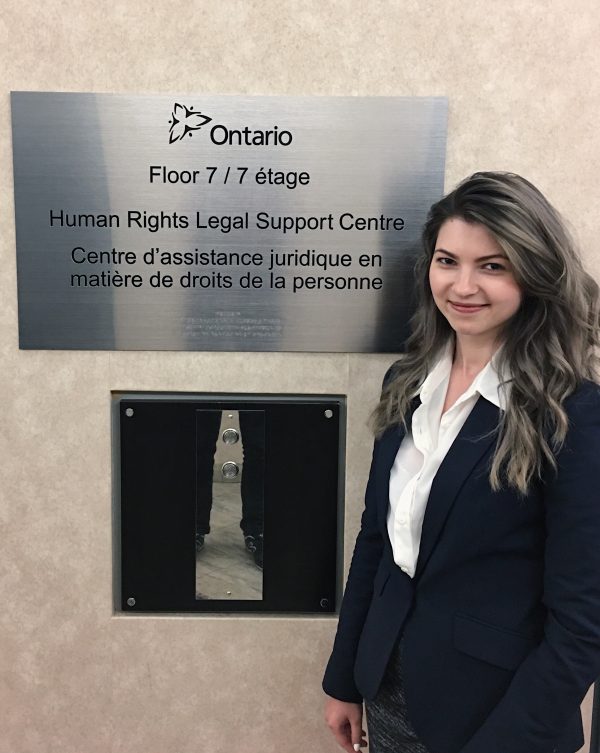 The Anti-Discrimination Intensive Program and summer employment at the Human Rights Legal Support Centre has been the single most significant educative tool during my law school career to date. It has made a striking impact on my life and undoubtedly shaped my future career in law.
The Anti-Discrimination Program is a collaboration between Osgoode and the Human Rights Legal Support Centre. The Centre offers human rights legal services to individuals throughout Ontario who have experienced discrimination contrary to the Ontario Human Rights Code. The program offers students the opportunity to develop specialized knowledge of anti-discrimination law and to see an administrative law process from beginning to end.
I entered this program as a second-year JD and Masters of Philosophy student with a keen interest in social justice, legal theory and criminal law. I sought practical, clinical experience at the Centre in order to develop my lawyering skills and because I wanted to do meaningful legal work. As I reach the half-way point in my summer employment at the Centre, I realize that I am inspired to consider a legal career in labour law, in health law, or in landlord and tenant law, options which I had not previously contemplated.
Over the past six months I have developed a level of practical and substantive legal knowledge that no single law school course could have taught me. I have had the chance to develop a variety of legal skills during my time at the Centre – from research and drafting, to client correspondence and legal etiquette among peers and Vice-Chairs at the Human Rights Tribunal of Ontario. The numerous in-depth client interviews I have conducted and intake calls I have fielded have allowed me to find my voice as a legal guide for vulnerable clients. The clients I have had the chance to assist have taught me how to be a better listener, communicator and advocate, as well as maintaining high expectations of me while addressing their legal problems.
I have learned how to prepare for mediation and, after observing numerous mediations led by my mentors at the Centre, I successfully represented a client in reaching a favorable settlement at the Human Rights Tribunal of Ontario mediation, with my mentor in attendance. I have also had the opportunity to attend hearings with my mentor where I provided support for examination in-chief and cross-examination questions, as well as assisting counsel by keeping the client calm in the face of a difficult Respondent and opposing counsel.
This summer employment experience has afforded me the chance to learn not only about human rights law, but about landlord and tenant law as well as labour law. For instance, I have been helping a client who is particularly vulnerable and in an unstable housing situation. I have reviewed an impressive number of Landlord and Tenant Board decisions as a result of multiple attempts by his landlord to evict him. My supervisor and I have been in communication with his legal representative in those matters; working together to prevent his eviction so that his human rights case might stand a better chance. This case has been difficult, but it has been a learning opportunity. I have a better understanding of how different areas of the law, especially human rights law, can overlap in various legal proceedings and how lawyers from different clinics or law firms can work together to protect clients' interests.
The lawyers, human rights advisors and administrative staff at the Centre are a terrific resource for the summer students who are employed here. Their collegiality and open-minded spirit has made this environment a place where I can develop my legal skills and professionalism, but also an inspirational environment for becoming a better person overall. As a summer student, I am consistently surprised and delighted to see that even my supervisors, with decades of experience in this field, respect my ideas and are willing to listen to my suggested solutions to various legal matters. I have never felt ignored, micro-managed, or afraid of making a mistake while working here, making it an ideal legal job experience for a law student.
Working at the Human Rights Legal Support Centre has truly been a remarkably positive experience in my life and in my career. I am grateful to the donor for making it possible for me to work here this summer and to contribute to fostering access to justice for persons who have experienced human rights violations.
July 2017