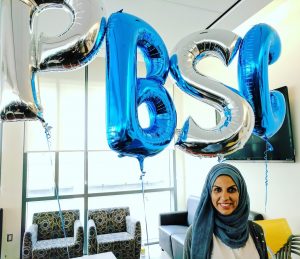 A legal education gives us a voice louder than most, and sometimes we must use that voice to empower those who are not a given a platform to speak. I learned this fairly quickly through my engagement with Pro Bono Students Canada (PBSC) Osgoode Chapter. An organization with 22 chapters across the country, PBSC employs the passion and impeccable work ethic of law students to provide free legal services to low-income individuals and community organizations.
During my first year at Osgoode, I was fortunate enough to be placed at the FCJ Refugee Centre through the PBSC program. The FCJ Refugee Centre is a not-for-profit organization that provides support for individuals who have precarious non-citizenship status. Although I was only a first-year law student, I was given the responsibility to draft comprehensive submissions for humanitarian and compassionate grounds applications to assist clients who were trying to obtain permanent residency. I was afforded the opportunity to act as an advocate by making concise, but persuasive written arguments to convince administrative decision makers to allow these individuals to remain in the country. Initially, I was overwhelmed by this immense task, but my supervisor was incredibly patient, supportive, and always willing to answer my questions.
In my final year of law school, I was selected to be one of the program coordinators for the PBSC chapter at Osgoode. I was thrilled to now be in a position where I could facilitate the same experience for others. My co-coordinator and I realized the value of PBSC as an avenue for law students to gain practical experience early on in their legal careers. We focused on increasing the number of projects at Osgoode in order to harness the potential of a larger number of our students. The PBSC Osgoode Chapter is now the largest chapter in Canada, having placed 155 student volunteers with 40 partner organizations in 2017-2018. As someone who has been involved in the PBSC program as both a volunteer and a coordinator, I can confidently say that it is an experience like no other. PBSC allows future lawyers to see the access to justice crisis first-hand and become a part of the solution. The program encourages students to engage in legal drafting, research, oral advocacy, and community work, while instilling the pro bono ethic in the next generation of practitioners. Many students who participate in the program are able to create lasting relationships with the lawyers and organizations they work with.