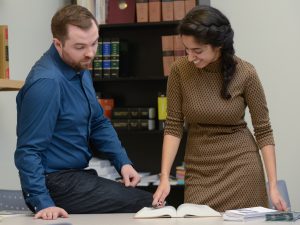 Among many high points, the pinnacle of my Osgoode experience was my involvement with the Community and Legal Aid Services Program (CLASP).
I will never forget sitting in the Moot Court during my first semester at Osgoode and hearing about all the different clinical and intensive programs – it was overwhelming! Among all the exciting opportunities, it was the CLASP student volunteer who caught my attention. He described the opportunity to learn practical legal skills, work directly with dedicated lawyers and give back to the community in a meaningful way. He also explained how, as an interdisciplinary and client-focused clinic, CLASP includes social worker students and offers the chance to get to know, and work with, the Jane-Finch community. I knew this was something I wanted to be a part of.
From that point on, CLASP defined my time at Osgoode. I volunteered as a Caseworker in the second semester of 1L and I can clearly remember the panic of answering the phone at a legal aid clinic for the first time. Looking back, there was nothing to be afraid of, just a great deal to learn! I was lucky enough to be selected as a Division Leader and participated in the intensive program throughout 2L. After that, I still wanted more, and I was elected to a student position on the CLASP board and served as Co-chair in 3L. Now, I'm proud to be a part of an amazing community of CLASP alumni and to find new ways to support the clinic, like offering training and mentorship to current Division Leaders.
It is difficult to overstate the positive impact that CLASP had on me as an individual and as a legal practitioner. There is a real bond amongst Division Leaders and I made many of my closest law school friendships at the clinic. I also benefited immeasurably from the professional example and inspiring mentorship of the clinic's review counsel and community outreach counsellor. The unparalleled practical experience I gained through CLASP helped me better understand the law I was learning in class, better understand the challenges in our justice system and impressed employers in interviews. I am well prepared to start my career, in large part thanks to the enriching and invaluable experiential education I received at the clinic.
In short, CLASP is an amazing opportunity and a prime example of the diversity, commitment to justice and excellence that makes Osgoode Canada's greatest law school.