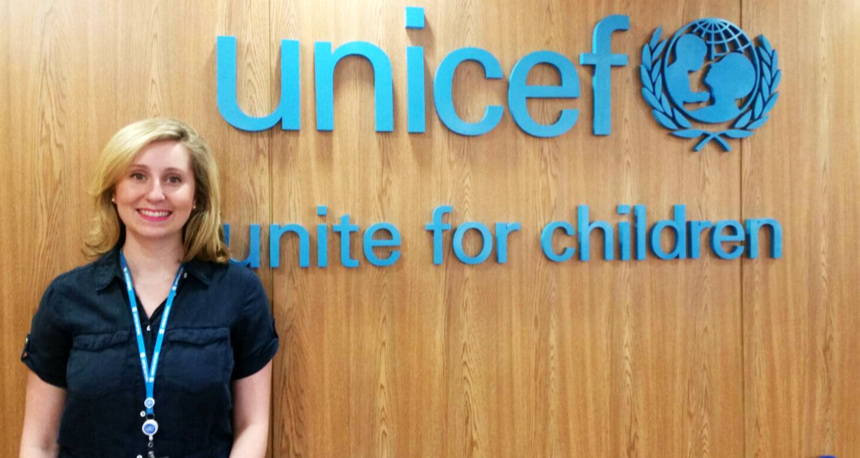 In the summer of 2016 I was lucky enough to be awarded an Ian Scott Public Interest Internship, to work at the United Nations Children's Fund's East Asia and Pacific Regional Office (UNICEF EAPRO) in Bangkok, Thailand.
UNICEF EAPRO is one of seven UNICEF Regional Offices, in a region which encompasses one-third of the world's population and one-quarter of the world's children. The office assists in the UNICEF work of countries such as Cambodia, China, Indonesia, Fiji, North Korea, Niue, Papua New Guinea, and Viet Nam. In total, 28 countries are monitored by UNICEF's regional office in Bangkok – some of which I knew little about, let alone knew how to properly pronounce, prior to my summer placement.
I worked as a Child Rights Intern under the supervision of a lawyer/child protection specialist in the Child Protection Section.  I gathered information and conducted research on juvenile justice systems in the region, child protection laws and legislation, as well as social development practices and precedents on the changing nature of children's rights law in Asia and the Pacific Islands. I also worked with partner agencies and country offices in the region to develop a package of evidence to inform and mobilize governments to better address child protection issues and develop child protection systems within their own constituencies and legislative bodies. I also worked with various governments on other issues relating to raising of the minimum age of criminal responsibility, sexual consent, and the implementation of specific United Nations and International Labour Organizations conventions related to children's and women's rights.
What I found really exciting was joining official UNICEF field missions in Thailand and Indonesia.  There I got to help with field research for the Study on Diversion and Other Alternative Measures for Children in Conflict with the Law in East Asian and Pacific Island Countries. The study has recently been published and is available online here – please click here to read a copy in English
I will never forget my summer in Bangkok, the strong smell of street food, the heat, and the warm smiles and hospitality of the Thai people. It has made me even more passionate about my future work as a lawyer and global citizen.  In fact I have already started.  I have set up a partnership with the UNICEF regional office in Bangkok and Osgoode's International and Transnational Law Intensive Program.