Bennett Jones LLP creates the clinic's first student prize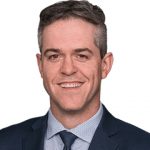 Christopher McKenna was the supervising lawyer on an Investor Protection Clinic file when a student caseworker did something that changed the way the Bennett Jones LLP director thought about the experiential learning opportunity.
"I've witnessed a lot of great judgement and ability in all of the IPC students I've worked with," he says, "but one student in particular was a real stand-out." After a client emailed an inquiry in the middle of the night, McKenna saw the student respond "thoroughly and with excellent judgement and ability" — all before the sun came up.
"It occurred to me then that there was an opportunity to recognize students like this who showed tremendous dedication to pro bono practice."
McKenna, who oversees Bennett Jones's junior associate and student programs across Ontario, took his idea to the firm's partners, and the Bennett Jones Investor Protection Clinic Prize was established. Valued at $1,000, the prize is awarded annually to an IPC student who demonstrates outstanding leadership and contributions to the clinical portion of the Investor Protection Clinic. The inaugural award will be presented in June.
"As someone who reviews a lot of resumes, there is a genuine difference between a student who lists a law school experience on their resume and one who engages deeply in that experience," McKenna explains. "Those are the people we've created this prize for."
He hopes that it sends an important message to the recipients about the value of their work. "By remaining engaged in pro bono work going forward, they will help ensure more people can access the justice they deserve."
Bennett Jones has supported the IPC since its founding. In addition to McKenna's involvement as a supervising lawyer, many of the firm's junior associates and articling students also assist with IPC files.
"It's an opportunity for them to stretch themselves by exploring areas of the law that the firm might otherwise not address," McKenna says. "Our involvement really is an open door. We're happy to be involved in any capacity within the clinic."