Winter-Spring 2016 Efforts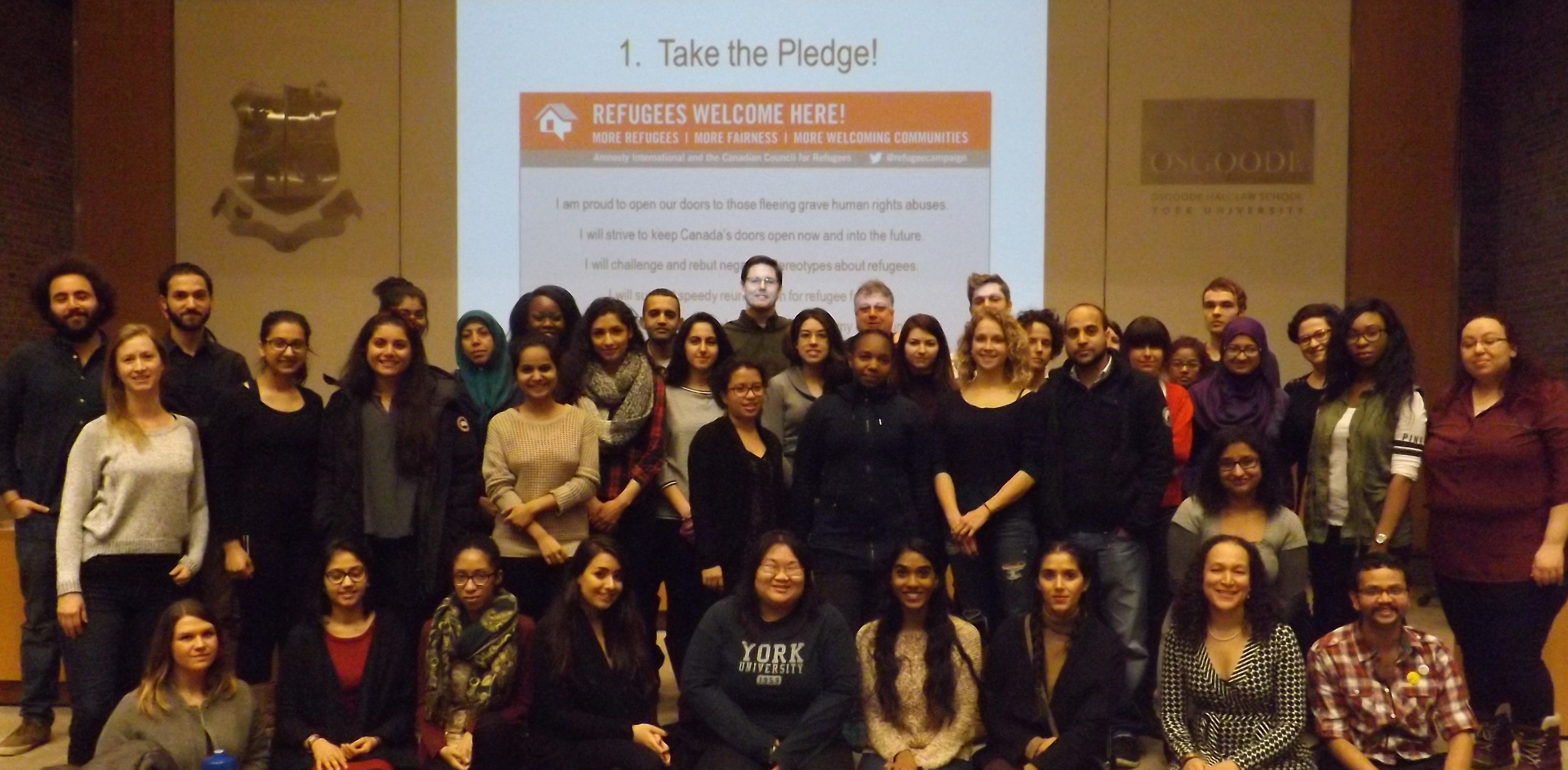 Awareness raising and education concerning refugee issues and policies in Canada have been a core component of York's Syria Response and Refugee Initiative since its launch in January 2016. York and its students' Refugees Welcome Here! campaign efforts began and gathered momentum in the Winter term of 2016.
These efforts included a March 2016 Refugee Advocacy Week and Refugees Welcome Here! Advocacy Training, (pictured above) with the Amnesty International Canada's then-campaign lead and grew in the build-up to Refugee Rights Day, April 4th 2016.
Student groups involved in planning of that semester's activities included Amnesty International at York, the Centre for Refugee Studies Student Caucus, RefugeAid, UNICEF/MSF at York, and the WUSC Keele Campus Committee. These groups met regularly to plan their participation in Refugee Rights Month activities.
Some events included the following:
1) Monday April 4th, 2016 12:00-2pm Refugee Rights Day panel at York organized by McLaughlin College and the School of Public Policy and Administration. It included prominent experts in this field and York student participation!
2) This initiative, students and allies organizing for the month also promoted photography of York community members with welcoming messages and pledges concerning refugees and refugee rights. Examples are available on our project Instagram page . These are an ongoing effort, so if you, your class, or campus group would like to join in on this project please let us know!
3) Refugee Rights Day and Month Activities and awareness promoted through regular tabling in Vari Hall.
2016 Toronto Refugee Rights Month Coalition- Working with the Community
Within Toronto, the York University Syria Response and Refugee Initiative, the Centre for Refugee Studies and Osgoode Hall Law School were members of the 2016 Refugee Rights Month Coalition, part of a city-wide group organizing and highlighting a month-long series of events to highlight the importance of refugee rights. At the coalition's request the City of Toronto agreed to recognize April as Refugee Rights Awareness Month. The group also issued a press release encouraging Canadians to commemorate Refugee Rights Month 2016 and advocating for several refugee policy changes .
A featured event of the month was community participation in an Amnesty International Walk for Refugees on Saturday, April 30, 2016 as well as Refugee Rights Day panels at both York University (lunchtime) and at Women's College Hospital in the evening on April 4th.
Thank you to all of the students, faculty and community members who worked with us in the first months of our project!