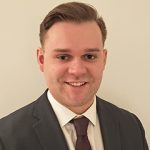 Osgoode's IPC is responding with a retail investor guide to help prevent scams, frauds and improper investment advice during COVID-19
The global pandemic has created a perfect storm of market volatility and isolation that has led to a significant increase in the number of potentially fraudulent cases seen by Osgoode's Investor Protection Clinic.
"As early as last summer, we saw an increase in new complaints from investors who saw their investments decline and not recover with the market. Many had a long-term relationship with an adviser they thought they trusted, so they'd never been in the situation of questioning whether or not their investment products were suitable," explains Cameron Teschuk, a third year Osgoode student and IPC caseworker, who is slated to join New York City's Sullivan & Cromwell LLP this spring as an associate.
At the same time, COVID-19 has left many investors isolated and cut off from their trusted sources of advice — family members, friends, even their local banks or brokerage managers. "Historically, if a client had a question or concern about an adviser, they could make an appointment at the branch and talk to a senior manager. Now, because of quarantining orders, clients are saying they haven't been able to get answers and they don't know where to turn," says Teschuk.
Osgoode's Investor Protection Clinic is assisting an increasing number of clients in these situations. Between April and December, the number of intake interviews totalled 41 compared to 13 during the same period in 2019. Each of the 12 student caseworkers has been managing two or three active files.
"Our team has been working very hard to take on extra files and respond to the increasing number of retail investor concerns throughout COVID-19," says founding academic director Poonam Puri. Everyone who brings forward a complaint receives an intake interview.
"We are filling the gap and helping vulnerable investors recoup their losses," says Puri.
And now she and her team are also taking steps to help curb those losses before they even happen.
In November, Osgoode's IPC released a guide for retail investors who have experienced investment portfolio volatility in the wake of the global pandemic. The Retail Investors Guide to COVID-19 provides a list of do's and don'ts for retail investors, and highlights common scams related to COVID-19, including get rich quick schemes and investment products marketed as "higher returns with no extra risk."
While regulatory agencies, including the Ontario Securities Commission and the Investment Industry Regulatory Organization of Canada, also communicate much of this information, this guide is specific to retail investors.
"By sharing practical advice, we hope to prevent further losses," says Teschuk. "But we also want investors to know that we're here to help if they've fallen victim to a scam, fraud or improper investment advice before or during the COVID-19 pandemic.
"The sooner they reach out to us, the better."
Do's and Don'ts for Retail Investors During COVID-19
DO talk to a registered investor adviser about how the pandemic has impacted your investment portfolio.
DON'T panic and liquidate your entire investment portfolio.
DO be patient as the market goes through ups and downs.
DON'T try to time the market.
DO maintain a balanced investment strategy in line with your personal risk tolerance.
DON'T seek out high-risk alternative investment products in pursuit of higher returns.
DO be wary of investment products that are "too good to be true."
DON'T trust online sources purporting to offer free services or requesting personal information.
DO verify that your investment adviser works for a regulated investment firm.
For further details about best practices for retail investors responding to investment portfolio volatility caused by COVID-19, visit The Retail Investors Guide to COVID-19.