This medal is awarded to a member of the Canadian legal community who has exemplifies Dianne Martin's commitment to law as an instrument for achieving social justice and fairness.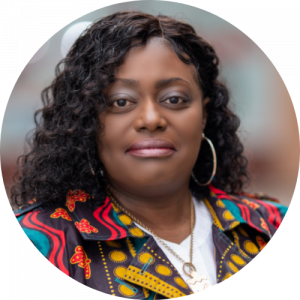 Cherie A. Daniel '19 (LLM)
"I am inspired by her tireless commitment to advocating for racialized individuals in the legal system and the work she is doing to make a difference in the lives of many who are facing discrimination."
Cherie Daniel is an LLB graduate from the University of Liverpool Law School and was called to the Bar of Ontario 2005. She practiced in the areas of Criminal law, Regulatory, Civil, and Tax defence and has appeared at all levels of Court in Ontario. Cherie's practice consisted of 85 per cent legal aid work and most of the clients that she defended were Black youth. As she says, "Looking at my community through the lens of both a Black woman and lawyer is social justice work."
Cherie has been a passionate advocate for social justice through her practice and her volunteer work for minority and foreign-trained lawyers. She has mentored many during her spare time and most of all is dedicated to ensuring equal treatment for all.
After 10 years of practicing law full time, Cherie saw the opportunity to expand the presence of racialized students in the legal field and decided to pursue a LLM at Osgoode. She started teaching part-time at different colleges in the Toronto and the surrounding areas. Cherie uses her teaching platform to introduce students to the importance of cultural competency and critical race legal theory.
She is a community leader who dedicates her time to important projects including launching the National Black Graduate Network, an initiative to promote communication and collaboration among Black graduate students and students of Black Studies in Canada. Cherie was recognized in 2020 as 1 of 100 Accomplished Black Canadian Women and is the first recipient of the  inaugural Cultivating Community Award from the University of Toronto.
Cherie is currently in the second year of her PhD in Social Justice Education with a collaborative focus in Women and Gender studies and is preparing to conduct critical ethnographic research examining the experiences and pedagogical and legal practices of Black women law professors in Canada.