From Classroom to Case Law: Human Rights Experiential Learning in the Code's 60th Year
Celebrating success and reflecting on the work of human rights and social justice law in Ontario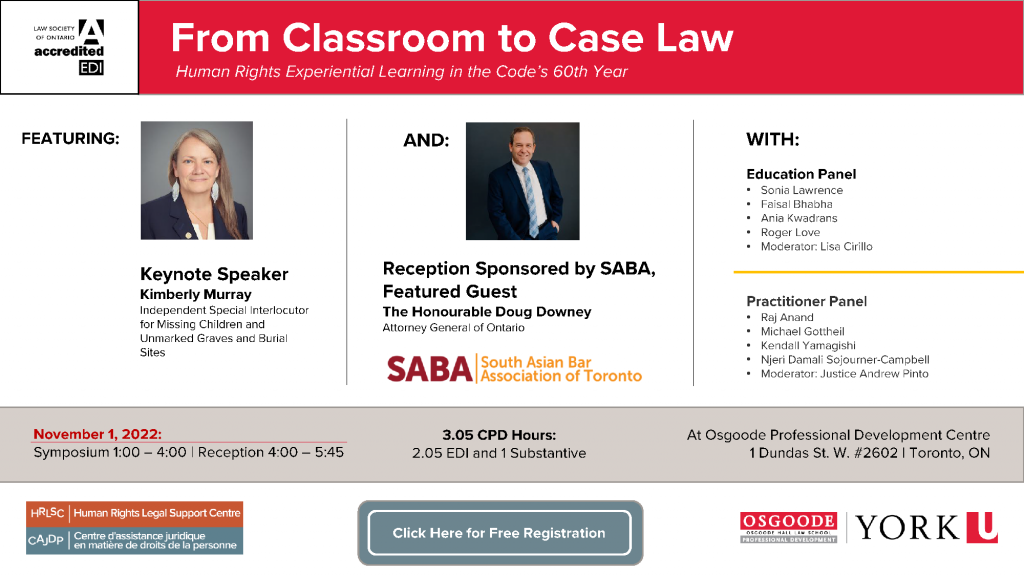 Join us on Nov. 1 for an afternoon of celebration, reflection and forward-thinking on the topic of experiential legal education in human rights with the HRLSC and Osgoode Hall Law School. This free, half-day symposium will honour the HRLSC's and Osgoode's collaborative Anti-Discrimination Intensive Program (ADIP) and the 60th anniversary of Ontario's Human Rights Code. The symposium will bring together human rights faculty and practitioners to review developments in human rights law and consider the ever-growing importance of introducing law students to Ontario's human rights system.
Join our Panels of speakers representing a diverse group of scholars and lawyers as they discuss best practices that promote flexibility and principled advocacy and envision how to prepare future generations of legal minds when facing human rights issues in a new era of shifting, global challenges. We will look at the development of the Code, human rights jurisprudence, and the role of experiential education now and into the future; seeking out a bold, long-term vision for human rights legal practitioners in Ontario.
Please note: For greatest accessibility to all interested in attending, the event is staged as a hybrid presentation with live webcast and limited in-person attendance. This registration page is only for access to the online streaming program running from 1 pm to 4:10 pm.
If you are interested in attending the symposium in-person or the post-symposium social networking reception sponsored by the South Asian Bar Association, please contact aursel@hrlsc.on.ca.
This event will be recorded.
This event is accredited by Law Society of Ontario through Osgoode Professional Development for 3.05 Continuing Professional Development Hours:
1 substantive hours
2.05 EDI Professionalism hours
Program
1:00 – 1:10 Land acknowledgment
1:10 – 1:20 Welcome remarks
1:20 – 1:25 Introduction to Keynote Speaker
1:25 – 1:50 Keynote Speaker Kim Murray, Independent Special Interlocutor for Missing Children and Unmarked Graves and Burial Sites
1:50 – 2:50 Education Panel
3:05 – 4:05 Practitioner Panel
4:05 – 4:10 Concluding Remarks
4:10 – 4:30 Reception Featured Guest Attorney General Doug Downey
4:35 – 5:45 Networking Reception Sponsored by South Asian Bar Association (SABA)