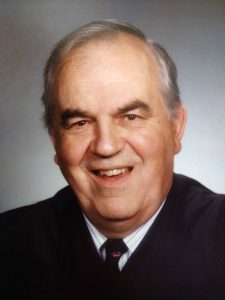 Professor Emeritus R.J. Gray passed away on January 12, 2023.
After graduating from Osgoode with his LLB in 1957, R.J. joined Osgoode in 1959. He served for many years in the position of Assistant Dean, Students and – just as important from his perspective – as coach of Osgoode's basketball team, The Owls. He was a much-loved professor who educated generations of Osgoode students. Their enduring affection for him was evidenced at his retirement gala dinner in 2000 that included more than 550 guests.
Those who knew R.J. will recall his good humour, kindness, support for Osgoode students, and passion for sports. He left a remarkable legacy at Osgoode and will continue to be very much missed.
Together with R.J.'s family, Osgoode is holding a memorial service at 2:00 pm on Saturday, February 11, 2023, in the Moot Court, at Osgoode Hall Law School on the York University campus.
For those who wish to attend or watch it via livestream please let us know.
Please click here to make a donation to the R.J. Gray Award, which is given to an Osgoode student who demonstrates financial need, outstanding academic achievement, and involvement in extracurricular activities, such as participation in York University athletics. Osgoode will match all gifts made to this fund.
If you have a memory of R.J. that you would like to share with his family and the Osgoode community we encourage you to add it to our Kudoboard.