The Gold Key award for Public Sector recognizes the achievements of public sector or government lawyers and members of the judiciary.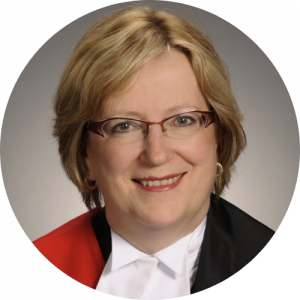 Michelle Fuerst '79
"Justice Fuerst was a trail blazer [at the time of her appointment], being a female judge in an area of law mostly populated by male judges."
Justice Michelle Fuerst was appointed to the Superior Court of Justice for Ontario in 2002 and assigned to the Central East Region, where she presides primarily over criminal law cases.  From 2013 until 2021, she was Regional Senior Judge of that Region, serving as a member of the Superior Court's Executive, and having responsibility for the scheduling and assignment of judges in the Region.
Prior to her appointment to the Bench, Justice Fuerst was a partner in the Toronto law firm of Gold & Fuerst, where her practice was restricted to criminal and quasi-criminal trials and appeals.  She is a past President of both the Canadian Bar Association-Ontario, and the Criminal Lawyers' Association (Ontario). Justice Fuerst was Chair of the Canadian Bar Association's International Development Committee, and the Canadian Bar Association's Judges' Forum.
She currently chairs the Criminal Law Program of the CIAJ/NJI Seminar for New Federally Appointed Judges. She is a member of the Judicial Education Committee of the Canadian Judicial Council, and a member of the Education Committee for the Superior Court of Justice.  She is a frequent presenter at continuing legal education programs for the judiciary, and for the bar.
Justice Fuerst has always had an interest in continuing legal education.  She was a member of the Adjunct Faculty of Osgoode Hall Law School for several years, where she taught Advanced Evidence, and Criminal Law II.  She is a published author and co-author of numerous legal books and articles, and is a Fellow of both the American College of Trial Lawyers, and the International Society of Barristers.